Chemists are constantly checking the limits of theories, and the limits of bonding is one that has been subject to many tests of late. I have posted on two recent papers (here, here) that probe just how long a C-C bond can be, and now Li, Miller, and co-workers report a structure that pushes that limit even further out.1
They prepared and obtained the x-ray structure of five derivatives of o-carborane, namely compounds 1, 2a, 3a, 3b and 4. In all of these, the C-C bond in the carborane is stretched well beyond that of a typical C-C bond (see Table 1). The longest case is in 3b where the C-C bond length is a whopping 1.931 Å (see Figure 1), which obliterates the previous record holder at 1.798 Å.2 B3PW91-D3/cc-pVTZ computations corroborate these structures and the long C-C bond.
Scheme 1: Carboranes with long C-C bonds (highlighted in blue)

Table 1. C-C bond distance (Å)
| | | |
| --- | --- | --- |
| cmpd | r(C-C) expt | r(C-C) DFT |
| 1 | 1.829 | 1.839 |
| 2a | 1.720 | 1.710 |
| 3a | 1.893 | 1.917 |
| 3b | 1.931 | 1.936 |
| 4 | 1.627 | 1.607 |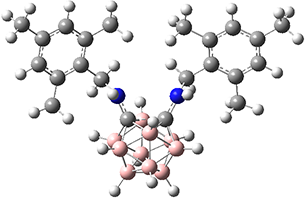 Figure 1. B3PW91-D3/cc-pVTZ optimized structure of 3b.
Topological electron density analysis locates a bond path between the two carbons in all five structures. The Wiberg bond index is small, with a value of only 0.34 in 3b. Natural bond orbital (NBO) analysis identifies a negative hyperconjugation interaction between the nitrogen lone pair and the σ*C-C orbital. This rationalizes both the very long C-C bond and the very short C-N bonds, and the trends associated with the variation between 1° amine, 2° amine and imine.
References
1. Li, J.; Pang, R.; Li, Z.; Lai, G.; Xiao, X.-Q.; Müller, T., "Exceptionally Long C−C Single Bonds in Diamino-o-carborane as Induced by Negative Hyperconjugation." Angew. Chem. Int. Ed. 2019, 58, 1397-1401, DOI: 10.1002/anie.201812555.
2. Ishigaki, Y.; Shimajiri, T.; Takeda, T.; Katoono, R.; Suzuki, T., "Longest C–C Single Bond among Neutral Hydrocarbons with a Bond Length beyond 1.8 Å." Chem 2018, 4, 795-806, DOI: 10.1016/j.chempr.2018.01.011.
InChIs
3b: InChI=1S/C22H28B10N2/c1-13-7-15(3)19(16(4)8-13)11-33-21-22(34-12-20-17(5)9-14(2)10-18(20)6)25(21)23-27(21)24-30(23,25)28(22,25)29(22)26(21,22,27)31(24,27,29)32(24,28,29)30/h7-10,33-34H,11-12H2,1-6H3
InChIKey=UEZUONSMPNIZRQ-UHFFFAOYSA-N