Cyclobutadiene has long fascinated organic chemists. It is the 4e analogue of the 6e benzene molecule, yet it could hardly be more different. Despite nearly a century of effort, cyclobutadiene analogues were only first prepared in the 1970s, reflecting its strong antiaromatic character.
Per-trimethylsilylcyclobutadiene 1 offers opportunities to probe the properties of the cyclobutadiene ring as the bulky substituents diminish dimerization and polymerization of the reactive π-bonds. Kostenko and coworkers have now reported on the triplet state of 1.1 They observe three EPR signals of 1 at temperatures above 350 K, and these signals increase in area with increasing temperature. This is strong evidence for the existence of triplet 1 in equilibrium with the lower energy singlet. Using the variable temperature EPR spectra, the singlet triplet gap is 13.9 ± 0.8 kcal mol-1.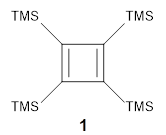 The structures of singlet and triplet 1 were optimized at B3LYP-D3/6-311+G(d,p) and shown in Figure 1. The singlet is the expected rectangle, with distinctly different C-C distance around the ring. The triplet is a square, with equivalent C-C distances. Since both the singlet and triplet states are likely to have multireference character, the energies of both states were obtained at RI-MRDDCI2-CASSCF(4,4)/def2-SVP//B3LYPD3/6-311+G(d,p) and give a singlet-triplet gap of 11.8 kcal mol-1, in quite reasonable agreement with experiment.
| | |
| --- | --- |
| singlet | triplet |
Figure 1. Optimized geometries of singlet and triplet 1.
References
1. Kostenko, A.; Tumanskii, B.; Kobayashi, Y.; Nakamoto, M.; Sekiguchi, A.; Apeloig, Y., "Spectroscopic Observation of the Triplet Diradical State of a Cyclobutadiene." Angew. Chem. Int. Ed. 2017, 56, 10183-10187, DOI: 10.1002/anie.201705228.
InChIs
1: InChI=1S/C16H36Si4/c1-17(2,3)13-14(18(4,5)6)16(20(10,11)12)15(13)19(7,8)9/h1-12H3
InChIkey=AYOHYRSQVCLGKR-UHFFFAOYSA-N