Another prediction made by quantum chemistry has now been confirmed. In 2010, Zhang, Hrovat, and Borden predicted that the degenerate rearrangement of semibullvalene 1 occurs with heavy atom tunneling.1 For example, the computed rate of the rearrangement including tunneling correction is 1.43 x 10-3 s-1 at 40 K, and this rate does not change with decreasing temperature. The predicted half-life of 485 s is 1010 shorter than that predicted by transition state theory.

Now a group led by Sander has examined the rearrangement of deuterated 2.2 The room temperature equilibrium mixture of d4–2 and d2–2 was deposited at 3 K. IR observation showed a decrease in signal intensities associated with d4–2 and concomitant growth of signals associated with d2–2. The barrier for this interconversion is about 5 kcal mol-1, too large to be crossed at this temperature. Instead, the interconversion is happening by tunneling through the barrier (with a rate about 10-4 s-1), forming the more stable isomer d2–2 preferentially. This is exactly as predicted by theory!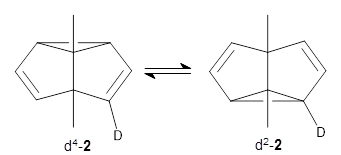 References
1. Zhang, X.; Hrovat, D. A.; Borden, W. T., "Calculations Predict That Carbon Tunneling Allows the Degenerate Cope Rearrangement of Semibullvalene to Occur Rapidly at Cryogenic Temperatures." Org. Letters 2010, 12, 2798-2801, DOI: 10.1021/ol100879t.
2. Schleif, T.; Mieres-Perez, J.; Henkel, S.; Ertelt, M.; Borden, W. T.; Sander, W., "The Cope Rearrangement of 1,5-Dimethylsemibullvalene-2(4)-d1: Experimental Evidence for Heavy-Atom Tunneling." Angew. Chem. Int. Ed. 2017, 56, 10746-10749, DOI: 10.1002/anie.201704787.
InChIs
1: InChI=1S/C8H8/c1-3-6-7-4-2-5(1)8(6)7/h1-8H
InChIKey=VEAPRCKNPMGWCP-UHFFFAOYSA-N
d4–2: InChI=1S/C10H12/c1-9-5-3-7-8(4-6-9)10(7,9)2/h3-8H,1-2H3/i5D
InChIKey=WUJOLJNLXLACNA-UICOGKGYSA-N
d2–2: InChI=1S/C10H12/c1-9-5-3-7-8(4-6-9)10(7,9)2/h3-8H,1-2H3/i7D
InChIKey=WUJOLJNLXLACNA-WHRKIXHSSA-N