The Bergman cyclization and some competitive reactions are discussed in detail in Chapter 4 of by book. The Bergman cyclization makes the C1-C6 bond from an enediyne. Another, but rarer, option is to make the C1-C5 bond, the Schreiner-Pascal cyclization pathway. de Oteyza and coworkers have examined the competition between these two pathways for 1 on a gold surface, and used STM and computations to identify the reaction pathway.1
The two pathways are shown below. The STM images identify 1 as the reactant on the gold surface and the product is 6. No other product is observed.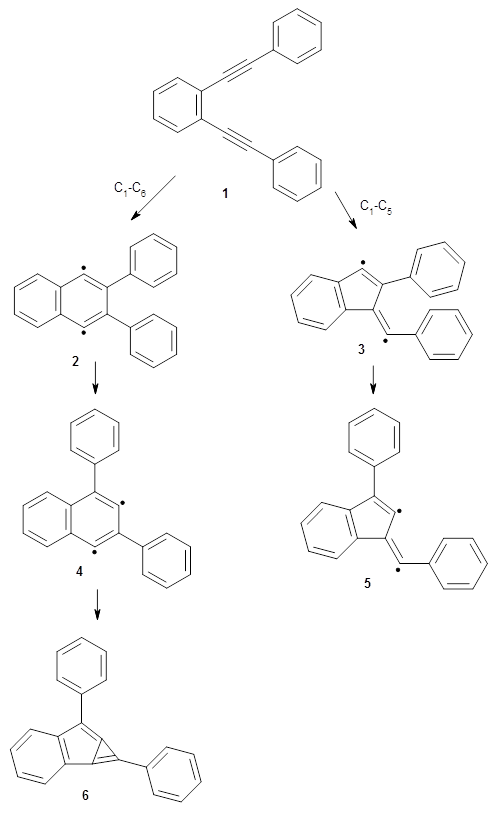 Projector augmented wave (PAW) pseudo-potential computations using the PBE functional were performed for the reaction on a Au (111) surface was modeled by a 7 x 7 x 3 supercell. The optimized geometries of the critical points are show in Figure 1.



1




TS(1→2)




TS(1→3)




2




3




TS(2→6)




TS(3→5)




6




5
Figure 1. Optimized geometries of the critical points on the two reaction pathways.
Explicit values of the relative energies are not given in either the paper or the supporting information, but rather a plot shows the relative positions of the critical points. The important points are the following: (a) the barrier for the C1-C5 cyclization is lower than the barrier for the C1-C6 cyclization and 3 is lower in energy than 2; (b) 5 is lower in energy than 6; and (c) the barrier for taking 2 to 6 is significantly below the barrier taking 3 into 5. The barrier for the phenyl migration taking 3 into 5 is so high because of a strong interaction between the carbon radical and a gold atom of the surface. The authors suggest that the two initial cyclizations are reversible, but the very high barrier for forming 5 precludes it from taking place, leaving only the route to 6 as a viable pathway.
References
(1) de Oteyza, D. G.; Paz, A. P.; Chen, Y.-C.; Pedramrazi, Z.; Riss, A.; Wickenburg, S.; Tsai, H.-Z.; Fischer, F. R.; Crommei, M. F.; Rubio, A. "Enediyne Cyclization on Au(111)," J. Amer. Chem. Soc. 2016, 138, 10963–10967, DOI: 10.1021/jacs.6b05203.
InChIs
1: InChI=1S/C22H14/c1-3-9-19(10-4-1)15-17-21-13-7-8-14-22(21)18-16-20-11-5-2-6-12-20/h1-14H
InChIKey=XOJSMLDMLXWRMT-UHFFFAOYSA-N
2: InChI=1S/C22H14/c1-3-9-17(10-4-1)21-15-19-13-7-8-14-20(19)16-22(21)18-11-5-2-6-12-18/h1-14H
InChIKey=DAUFPUDTOKPCMX-UHFFFAOYSA-N
3: InChI=1S/C22H14/c1-3-9-17(10-4-1)15-22-20-14-8-7-13-19(20)16-21(22)18-11-5-2-6-12-18/h1-14H
InChiKey=>FYBPBPGPMCJQNF-UHFFFAOYSA-N
4: InChI=1S/C22H14/c1-3-9-17(10-4-1)20-15-19-13-7-8-14-21(19)22(16-20)18-11-5-2-6-12-18/h1-14H
InChIKey=CYXVOOSYXXUHFV-UHFFFAOYSA-N
5: InChI=1S/C22H14/c1-3-9-17(10-4-1)15-19-16-22(18-11-5-2-6-12-18)21-14-8-7-13-20(19)21/h1-14H
InChIKey=BIKDAEZYYCKGSI-UHFFFAOYSA-N
6: InChI=1S/C22H14/c1-3-9-15(10-4-1)19-17-13-7-8-14-18(17)21-20(22(19)21)16-11-5-2-6-12-16/h1-14H
InChIKey=GAXPSSOZJDJRPN-UHFFFAOYSA-N