Schmittel has examined the thermolysis of 1, which undergoes a Garratt-Braverman rearrangement followed by a [1,5]-H migration to produce 3.1 The product 3 is formed in a 10.3:1 ratio of E to Z consistently over the temperature range of 60 – 140 °C. This non-changing ratio is unusual. The difference in the computed (UB3LYP/6-31g(d)) free energy of activation for the step 2 → 3 ranges from 2.35 to 2.56 kcal mol-1 for this temperature range, manifesting in a predicted E:Z ratio of 24.9 at 60 °C to 22.7 at 140 °C.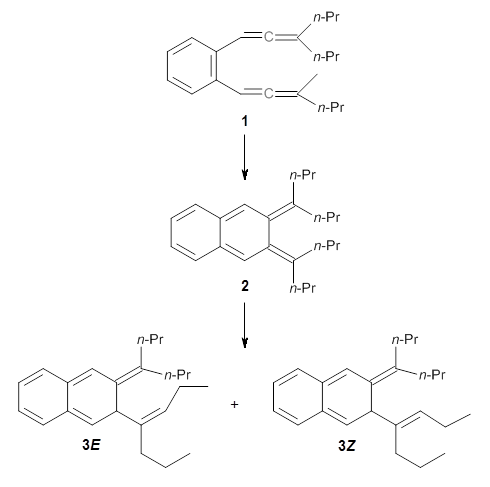 The computed structures of 1-3 along with the transition states are shown in Figure 1. The activation free energy for the first step (Garrat-Braverman) is 30.9 kcal mol-1. This is about 30 kcal mol-1 larger than the barrier for the second step. Schmittel suggests that a non-statistical effect is manifesting here. The molecule crosses the first TS and then follows a downhill path directly over TS2E without spending any time in the region of the intermediate 2. A few computed trajectories all indicate that it takes less than 50 fs from the time the reaction crosses TS1 until the hydrogen migrates, supporting the notion that vibrational relaxation within the intermediate 2 is not occurring. This reaction is yet another example of dynamic effects dictating product distributions.



1a
0.0




1b
12.3




TS1
30.9




2
-14.6




TS2E
0.5




TS2Z
2.8




3E
-50.5




3Z
-46.1
Figure 1. UB3LYP/6-31G(d) optimized structures and relative free energies (kcal mol-1) for the reaction 1 → 3. (Note that a conformational change must first take 1a into 1b before the reaction can take place.)
References
1) Samanta, D.; Rana, A.; Schmittel, M. "Nonstatistical Dynamics in the Thermal Garratt−Braverman/[1,5]‑H Shift of One Ene−diallene: An Experimental and Computational Study," J. Org. Chem. 2014, 79, 8435–8439, DOI: 10.1021/jo501324w.
InChIs
1: InChI=1S/C24H34/c1-5-11-21(12-6-2)17-19-23-15-9-10-16-24(23)20-18-22(13-7-3)14-8-4/h9-10,15-16,19-20H,5-8,11-14H2,1-4H3
InChIKey=RVCDLAOAATXCKZ-UHFFFAOYSA-N
2: InChI=1S/C24H34/c1-5-11-19(12-6-2)23-17-21-15-9-10-16-22(21)18-24(23)20(13-7-3)14-8-4/h9-10,15-18H,5-8,11-14H2,1-4H3
InChIKey=QCHALYJSTFUUQF-UHFFFAOYSA-N
3E; InChI=1S/C24H34/c1-5-11-19(12-6-2)23-17-21-15-9-10-16-22(21)18-24(23)20(13-7-3)14-8-4/h9-11,15-18,23H,5-8,12-14H2,1-4H3/b19-11-
InChIKey=XWILUXHXXNRMRE-ODLFYWEKSA-N
3Z: InChI=1S/C24H34/c1-5-11-19(12-6-2)23-17-21-15-9-10-16-22(21)18-24(23)20(13-7-3)14-8-4/h9-11,15-18,23H,5-8,12-14H2,1-4H3/b19-11+
InChIKey=XWILUXHXXNRMRE-YBFXNURJSA-N